candy apples
I got a candy apple at the farmers market this halloween and it started an addiction. I needed to make them at home so I could have quick, easy and constant access to a candy apple at all times.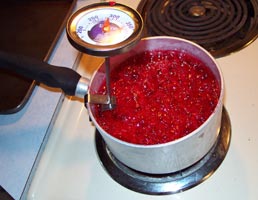 the candy apples were a little harder to make than I realized. Caramel apples are way easier in comparison. We had to buy a candy thermometer! Oooooh!!
So you mix together....
3 c granualted sugar
1 c corn syrup
1 c water
1/2 t cinnamon
1/4 t red food colouring
Or you buy the packet of stuff at the grocery store that you just mix with water. Heat it until the thermometer says about 290 degrees. (translation... very hot!)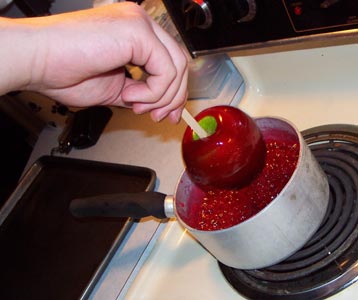 De-stem the apples, stab them with popsicle sticks and when the mixture is hot enough, dip each apple into it then set aside to cool. We used a variety of apples from granny smith to cortlands. I think a crisp, tart apple works best.. it offsets the sweetness.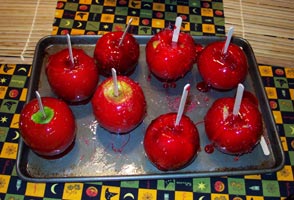 They are so pretty when you are done. The candy mixture was doing that glass stringying thing, so I was decorating the apples.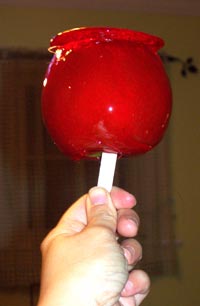 Dare I say I may like candy apples even better than caramel apples?