castle cake
For her fifth birthday Hannah wanted a Harry Potter birthday party. I volunteered to make her a Hogwarts Castle cake.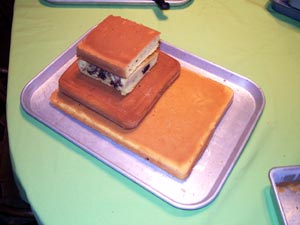 She couldn't decide on chocolate or vanilla cake so I baked marble. I used one 13x9 pan, two 7x7 pans (only one shown here) and a bread pan to bake the cakes. The bread pan cake was cut in half to make the top of the castle.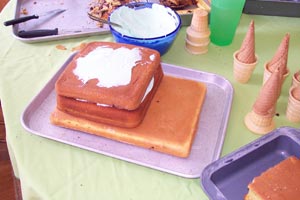 I stuck all the cakes together with icing.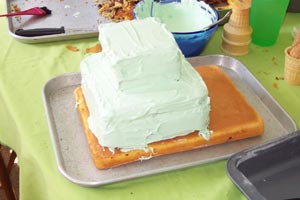 There are two coats of icing, one to hold down the crumbs, then a top smooth layer.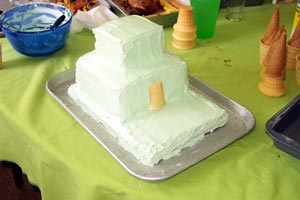 A piece of ice cream cone made a door and I added a base coat of icing to the lawn.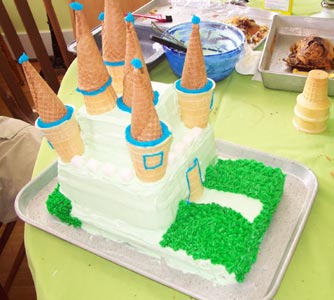 I used sugar and cake cones to make the towers. Aaron piped blue around them for accents and we used green piped icing for grass.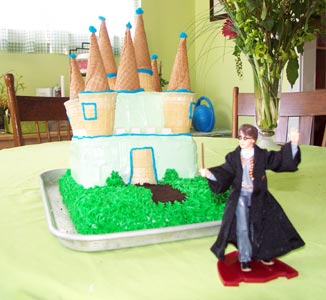 Chuck had the idea to use oreo crumbs for the road (I give credit where credit is due). There are also sugar cubes around the edges.
Aaron couldn't find a Harry Potter figure small enough to stand on the cake so he sort of stands waaaaay in front. It's a perspective thing.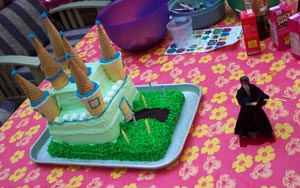 Here is the cake on site.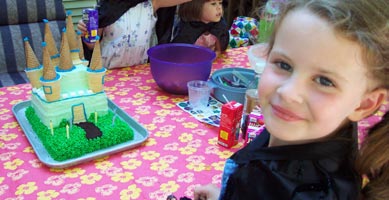 Hannah seemed pleased with her cake. Note that most of the little girls consumed the cones, sugar cubes and frosting and left the cake behind.