cookie lollipops
I wanted to make something different for my office's fourth annual Cookiepalooza. I spotted cookie lollipop pans at Michaels and decided to give it a try.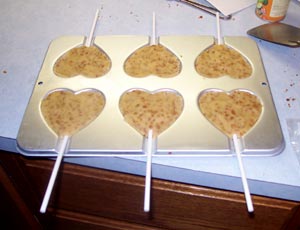 I sprayed the pan and patted the cookie dough into the "cavities" as they were called. (Made me feel like calling my dentist.) The pan had special grooves to hold the lollipop sticks.
I made butter toffee cookies. The recipe is at the end.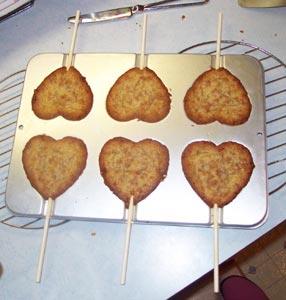 Here are the cookies when they came out of the oven. While the dough was really easy to make... it took a long time to make two dozen cookies. You have to let the cookies cool completely to get them out of the pan. Two pans may have helped.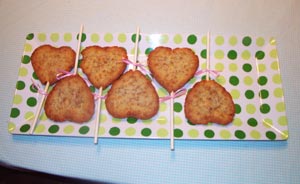 Here are the finished cookie lollipops. I tied ribbon around the sticks for extra cuteness.
Butter Toffee Cookies

1 cup softened butter, softened
1 cup white sugar
1 cup brown sugar
2 eggs
1 teaspoon vanilla
3 cups flour
1 bag of crushed Heath bar cookie bits

Cream butter white sugar and brown sugar together. Whip eggs and vanilla until they are fluffy. Blend together flour, butter/sugar mixture and egg/vanilla mixture. Add toffee candy.
(from here out I used the lollipop pan, but you can make regular cookies too)
Drop by spoonfuls onto ungreased cookie sheet. Bake 9 to 10 minutes at 350 degress.