halloween food 2004
I had my third Halloween party and needed spooky easy food to feed the gruesome guests.
Devil Eggs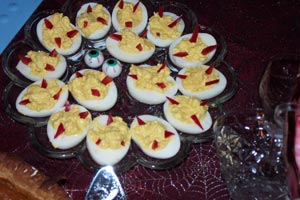 I just made regular deviled eggs then gave each one horns and a beard with a slice of red pepper. I think I saw this in Martha S. Living.
Graveyard Dirt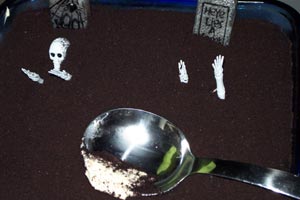 This was just a typical batch of dirt dessert but with gravestones and skeletons emerging.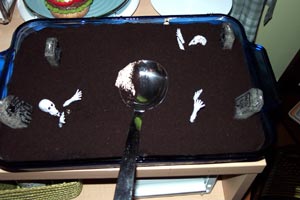 It was somewhat similiar to the pumpkin patch dirt I made two years ago.

Bloody Punch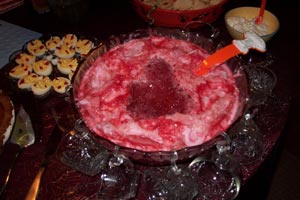 This is Tina's specialty. It calls for a bottle of 7 up, a can of Hawaiian Punch and scoops of raspberry sherbert. I am addicted to the stuff, I think I had 12 cups of it.
wormy ice cubes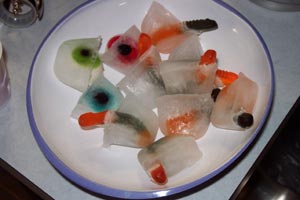 Freeze gummy eyeballs and half a gummy worm into your ice cube trays.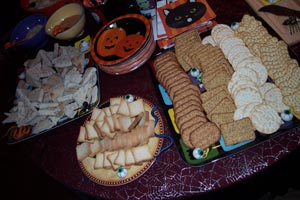 To accent the cheese and crackers I set rubber eyeballs, snakes and bugs on the platters.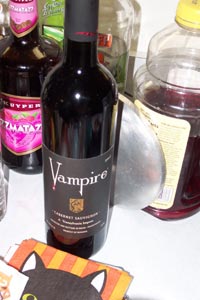 Alcohol makes me sick, but I had to get a bottle of this Vampire wine... imported from Transylvania!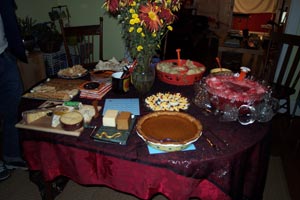 Here is the entire spread. Note my eighth pumpkin pie of the season. I am heartily sick of pumpkin pie at this point. For a tablecloth I used my red Xmas tablecloth with a black transparent spider web cloth over it. It had a nice effect.